Peppa Princess Palace | Kevins Action Cruiser | Sylvanian Caravan | GX Tightrope Terror | Voyager Optimus Prime | Bendaroos Mega Pack | Monopoly City Game | LEGO Minotaurus | vTech Kidizoom Camera | Mega Bloks Battle Strikers | cBeebies Waybuloo | Ben 10 Alien Chamber | Transformers Bumblebee Helmet | Bakugan Battle Arena | Rubiks 360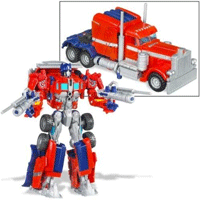 Transformers Figures - Voyager Optimus Prime
Another fantastic Christmas gift for boys aged 5 & up is the fabulous Voyager Optimus Prime Transformers Figure, once again highly recommended by Christmas Gift Expert. From the very day Optimus Prime made Earth his new home he has been dedicated to its protection.

Since that day Optimus Prime has focused all of his available will and power on destroying the last few Decepticons. Optimus Prime has refined his sensor suite, and trained with Ironhide in tracking the Decepticons. Optimus Prime Transformer is a fearless defender of justice and a beacon of hope to all those who suffer at the hands of Megatron.
Compare Prices for Voyager Optimus Prime


---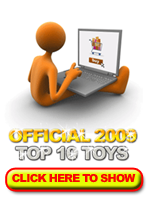 Voyager Optimus Prime
Gear up with the good guys with this Transformers Voyager Optimus Prime action figure. Fire either of two missiles from Optimus Prime's firing cannons in robot mode. Voyager Optimus Prime is a detailed robot-to-vehicle changing figure that features double-missile firing cannons in robot mode and a smokestack that converts to cannons in truck mode!

Get ready to do battle Autobot style or convert to tough truck mode and turn your smokestack into cannons. Either way, you're armed for battle with the Transformers Movie 2 Voyager Optimus Prime action figure.

Suitable for ages 5 years and over.
Voyager Optimus Prime Product Features
* Action Figure from Transformers Revenge of the Fallen movie
* Larger scale movie Action Figures!
* Realistic styling
* Conversion from vehicle to robot!
* Mech Alive technology
Voyager Optimus Prime Reviews
"I bought the Transformers Movie 2 Voyager Optimus Prime action figure with fairly low intentions as I was under a strong belief that the leaser would be the only good thing. How wrong I was. The Optimus Prime action figure is great! He has a very nice vehicle mode, some nice detail and his paint is rather nice, a little dark, but very nice"

"The robot mode of Voyager Optimus Prime is rather nice, has good articulation and detail and is a good representation of prime. The weapons are alright, nothing special, but nice nonetheless. He has a huge backpack pinned to his back which can be folded down, rather than up behind his head which does look a lot better. Some may view this as something which ruins the figure, I personally do not. All in all, a very nice figure and I'd really recommend picking this up if a Transformers fan and a definate buy"
---